Though Clean Water Action has been encouraged by bipartisan efforts to pass coronavirus relief and a law banning certain trichloroethylene (TCE) uses, there are many other public health priorities that were left unfinished by the Minnesota Legislature during the 2019-2020 session.  In particular, several strong bills were introduced to reduce public exposure to per- and polyfluoroalkyl substances (PFAS) and lead.  
Now's the time to raise your voice on key restrictions on toxic PFAS chemicals in Virginia. Urge legislators to pledge their support for these toxic pollution prevention priorities this session:
In light of the current public health crisis, access to clean water and sanitation services for the health and safety of our communities should be the top priority. Water shut-offs in Detroit and across Michigan pose a serious public health risk. Urge your Michigan lawmakers and the leaders of the House and Senate to pass a moratorium against water shutoffs to protect Michiganders during this pandemic.
This year, the Maryland General Assembly voted to pass a ban on chlorpyrifos in Maryland, but Governor Hogan vetoed the bill. Hogan's decision hurts public health at a time when our farm workers, especially, are already incredibly vulnerable. Send your representatives a message today: override Hogan's veto and protect public health.
Urge your Rhode Island State Representatives to prioritize the Beach, Clean Water, and Green Economy bond when they reconvene.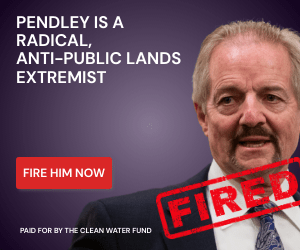 UPDATE: Friday, September 25, 2020 -- today a federal judge found that Pendley's position as acting director was in fact a violation of the law and ordered him to stop serving in that role.
Join us as we ask Governor Hogan to issue an Executive Order for mandatory COVID-19 protections for these workers who are putting their lives at risk to put food on our tables.