Clean Water Currents - December 2018
In this Edition
The Dirty Water Rule
UPDATE: On December 11, 2018, the Trump administration proposed its Dirty Water Rule. This proposal would wipeout Clean Water Act protections for at least 20% of streams miles across the country and at leat 51% of wetlands. It would put the drinking water sources for millions and millions of Americans at risk. Read more here.
Help us stop the Dirty Water Rule by sending a comment to the Environmental Protection Agency right now!
2018 Midterms: Clean Water Wins
After the 2016 elections, Clean Water Action put a renewed effort into organizing communities with an eye toward electing a pro-environment majority in Congress in 2018. Staff identified districts ripe for change in several states, prioritizing 15 Congressional districts in Michigan, Minnesota, New Jersey, Pennsylvania, and Virginia. Clean Water also focused on defending several senators, ensuring state legislatures across the country were led by clean water champions, and winning several gubernatorial races.
Focusing on the Field
The organization put its expertise in door-to-door field canvassing to work in these 15 districts, knocking on more than half a million doors. Hundreds of professional canvassers fanned out across the country to talk to voters. Field canvassers spoke with tens of thousands of voters, identifying clean water voters and motivating them to get out and vote on Election Day.
It worked. Clean Water-endorsed candidates in 14 of the 15 targeted districts won their races. Gubernatorial candidates Tim Walz in Minnesota and Gretchen Whitmer in Michigan both won election and Senators Debbie Stabenow (MI), Elizabeth Warren (MA), Bob Casey (PA), and Sheldon Whitehouse (RI) were all re-elected. In addition, Pennsylvania re-elected Governor Tom Wolf and Governor Gina Raimondo won a close race for re-election in Rhode Island.
Madeleine Dean, Rashida Tlaib, and Omar Ilhan. Clean Water efforts also yielded big wins in state legislatures. All of the candidates endorsed for the Massachusetts legislature won, several seats flipped to a pro-environment candidate in Pennsylvania, and clean water candidates won in Maryland, ensuring a strong pro-environment contingent for the 2019 legislative session. We also helped elect Dana Nessel as Attorney General in Michigan, along with 10 important state house and state senate seats. Most exciting was Texas, where Clean Water efforts won two out of four state senate races, and eight of nine races in which the organization endorsed in the state house — including eight seats that flipped from a pro-polluter to a pro-environment candidate.
How did this all happen?
 Here are a few highlights: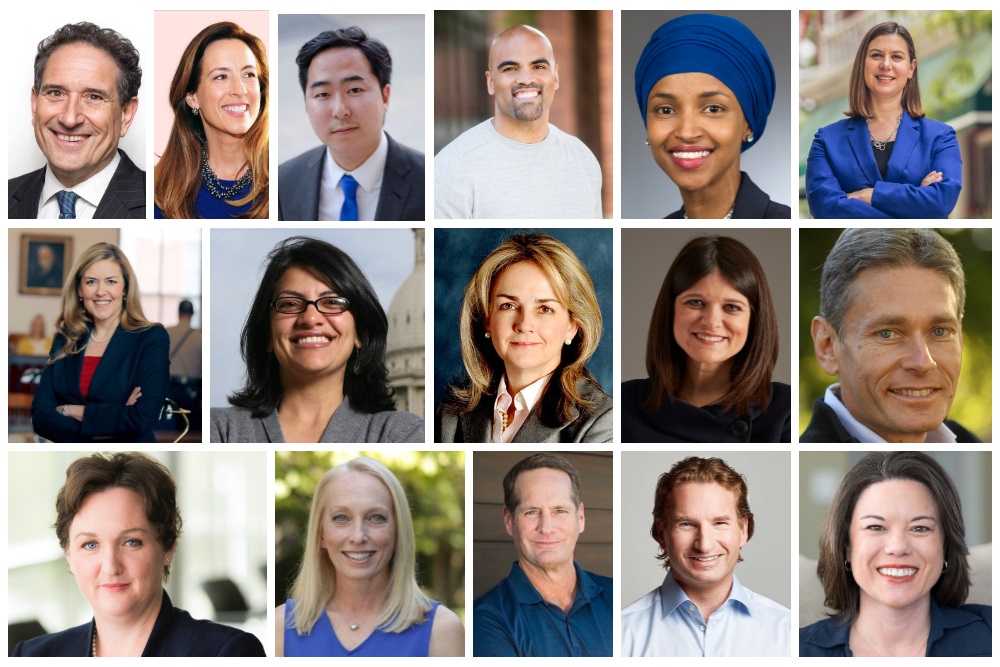 In the four competitive races that Clean Water Action focused on in New Jersey, canvassers knocked on more than 218,000 doors, holding personal, engaging conversations to maximize votes for our endorsed candidates Mikie Sherrill, Andy Kim, Tom Malinowski, and Josh Gottheimer. In addition to electing all four Representatives, Clean Water Action was able to help defend and re-elect Senator Bob Menendez.
In Michigan, Clean Water Action organizers canvassed more than 142,000 voters, supporting Gretchen Whitmer for Governor, Dana Nessel for Attorney General, Senator Debbie Stabenow, and candidates for U.S. House, like Rashida Tlaib and Gretchen Driskell, and state House in targeted swing districts.
In Pennsylvania, field organizers focused on swing suburban Philadelphia districts, knocking on more than 57,000 doors and speaking with voters to urge support for Governor Tom Wolf, Senator Bob Casey and key state candidates. 
In Minnesota, field teams knocked on more than 16,000 doors in swing districts to help replace anti-environment representatives with Angie Craig and Dean Phillips, and elect pro-environment state legislators and Governor-elect Tim Walz.
The effort didn't stop until the polls closed. Organizers spoke with voters in these districts right to the end, ensuring that as many clean water voters as possible were able to get out and support candidates who will push back against the dirty water agenda in Congress, help fill the leadership gap on efforts to address the climate crisis, and loosen the stranglehold that special interests like the fossil fuel industry have on our democracy.
Clean Water Action has a deep history of identifying opportunities to elect clean water leaders and then winning by putting resources into the field, knocking on thousands of doors and talking to voters. The organization continued that excellence this year. Study after study shows that field operations win campaigns. The importance of person-to-person contact can't be overstated. Clean Water Action has known this, and practiced it, for more than 46 years. The strategic investment in field operations this election will pay dividends for years to come.
What's Next?
Despite helping to ensure a pro-environment majority that will set the agenda in the U.S. House and strengthening clean water leadership in state capitols, the road ahead is long. Polluter allies increased their grip on the U.S. Senate and the Trump administration is still doing everything it can to undermine commonsense protections for our water and health and dismantling landmark laws like the Clean Water Act. Clean Water Action is looking to 2020, identifying districts and states where the organization can make a difference and elect another crop of clean water leaders. In the meantime, Clean Water staff will focus their expertise on fighting the dirty water agenda from the Trump White House, holding newly elected leaders to their promises and, most importantly, building the movement for clean water.
The Oil Industry's Lame Duck Trojan Horse
Control of the House of Representatives is about to switch hands next year. And with it, the fossil fuel industry's hopes of passing more friendly legislation will get dimmer. That is not stopping the oil industry from planning to slip one more handout from the taxpayers in their pocket. The CO2 Regulatory Certainty Act, introduced by Senator John Hoeven (R-ND), is specifically written for companies that benefit from the recently updated Section 45Q tax credit. Section 45Q provides tax credits for companies that capture and securely store carbon dioxide (CO2) emissions during industrial processes. The vast majority of captured carbon is sold to oil companies to inject back underground in order to extract residual oil trapped in a reservoir. This process is called enhanced oil recovery (EOR).
Senator Hoeven's proposed law would deregulate the tax code by removing the monitoring, reporting, and verification requirements. If enacted, EOR companies could qualify for the tax credit without reporting the amount of CO2 injected and stored underground. Instead, operators would only have to report the amount of CO2 purchased. This ignores the myriad of ways CO2 can leak during and after the EOR process. The bill also eliminates the requirement to submit a detailed monitoring plan to EPA in order to ensure the carbon actually remains safely underground. The bill undermines the intention of the carbon capture and storage tax credit and streamlines oil extraction without any protections in place.
This is basic taxpayer oversight and corporate accountability for companies taking hundreds of millions of dollars worth of federal tax credits.
The bill could get attached to a "must pass" piece of legislation like a large spending bill or in a tax extender package. Last year, the bill was slipped into the Tax Extender Act of 2017 before getting shelved. Large spending bills are vulnerable to unrelated issues (riders) at the last moment because special interests know that the budget bills are "must pass" pieces of legislation. Clean Water Action is working with our allies to make sure key policymakers on the Hill understand that this bad policy should be a nonstarter in any tax or spending bill. This includes meeting with various Member of Congress staff, coordinating with others NGOs on a unified public response, and drawing attention to the companies that will benefit if the bill passes.
Taking on PFAS Chemicals
Clean Water is working to get PFAS chemicals out of the environment, including drinking water sources, and to hold polluters accountable for widespread contamination. PFAS is a class of human-made chemicals — possibly as many as 4,000 chemicals — which includes Per- and Polyfluoroalkyl substances. Several of these (PFOA and PFOS) are relatively well known, and while manufacturers voluntarily stopped producing them a few years ago, they are still in products and the environment.  They have been found in the blood of virtually all Americans and around the globe. 
While PFASs are well-known for their use in fire fighting foam and non-stick cookware, the thousands of other chemicals — many of which were used as substitutes when PFOA and PFOS were phased out — are used in everything from food packaging to stain-resistant clothing. These chemicals are long-lived in water and in the human body and are associated with numerous adverse health in animals, including reproductive and developmental kidney, liver and immunological effects. We need to know more about uses and toxicity of the thousands of other chemicals in this class. We know relatively little about how widespread contamination is from this large family of chemicals.
Our national and state work focuses on several critical areas:
Drinking Water Solutions: There are numerous actions that federal agencies, including but not limited to the Environmental Protection Agency (EAP) can address PFAS chemicals in drinking water. This includes increases in funding and effort around drinking water laboratory methods and treatment technologies, which are incredibly limited given the scope of the problem.  Some states are moving forward with aggressive monitoring for these chemicals in drinking water and on setting limits for PFAS in tap water from regulated water systems.
Keeping PFASs out of Water and Improving Access to Information: Through the Clean Water Act and other federal programs, we need to obtain more information on manufacture, use, and discharge of PFAS chemicals.  We need to focus in particular on keeping PFAS chemicals out of drinking water sources.
Curbing PFASs Use: We need to get PFAS chemicals out of products and off the market.  From food packaging to personal care products, we need policymakers and consumers to take action to address the PFAS chemicals problem where it starts.
Holding Polluters Accountable: Costs of clean up should not be paid by taxpayers, but by those responsible for the contamination. Producers of PFAS chemicals need to be accountable for contamination, and for continuing to make and use these chemicals while withholding evidence of health risks.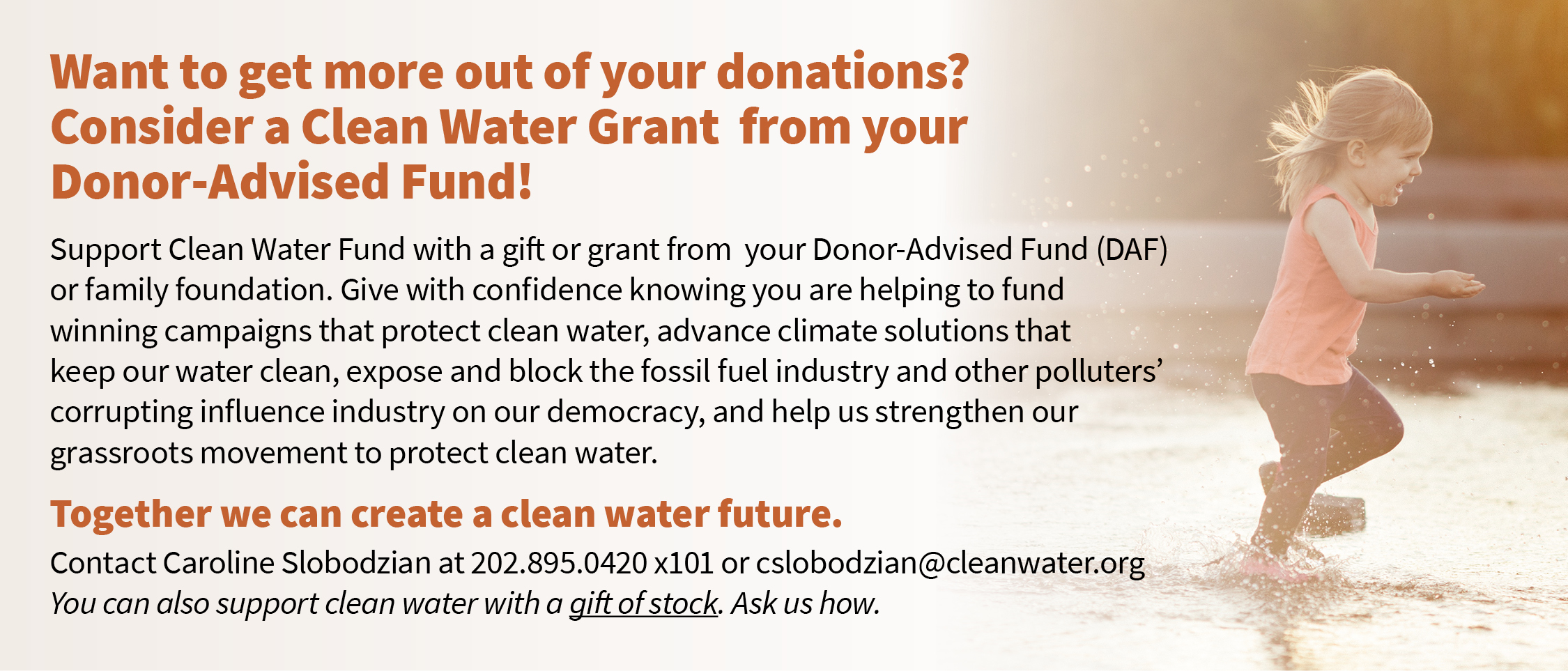 Winning for Our Water in Court
This summer Clean Water Action was part of two important legal victories for clean water. The first court decision in Clean Water's favor sent a strong message to the Trump administration — that rule of law trumps politics — and people must have a say in how policy decisions are made. The U.S. District Court for the District of South Carolina agreed with the organization and the other dozen plaintiffs represented by the Southern Environmental Law Center (SELC) that the Trump administration's suspension of the 2015 Clean Water Rule was illegal. The Clean Water Rule restored critical pollution protections for streams and wetlands but has been under constant attack since Trump came into office.
Because of this recent court victory, the Clean Water Rule is now in effect in 22 states. Unfortunately the Clean Water Rule remains suspended in 38 other states that are covered under prior rulings by federal appeals courts in North Dakota and Georgia. This court decision in August ruled strictly on the illegal suspension of the Rule; there are several separate lawsuits still pending in federal appeals courts where the merits and substance of the Clean Water Rule will be decided. This case illuminates the importance of checks and balances in government, and how the courts play a vital role in enforcing laws and will not hesitate to stop a presidential administration from breaking those laws.
The Trump administration is still working swiftly to eliminate pollution protections for small streams and wetlands. Clean Water staff anticipates the Environmental Protection Agency (EPA) will finalize its rule to eliminate the Clean Water Rule by spring 2019. The Agency is also working on a replacement rule that is expected to permanently strip pollution protections for these vital water resources. Clean Water Action will be mobilizing its members and supporters to oppose this reckless rollback.
The second court victory this summer came from the U.S. District Court for the District of Columbia, which agreed with Clean Water Action that the Obama administration did not do enough to protect communities from toxic coal ash waste. Earthjustice represented Clean Water and about a dozen other plaintiffs in this case. The Court ordered the U.S. Environmental Protection Agency (EPA) to fix three key deficiencies in its 2015 Coal Ash Rule:
— Allowing coal utilities to continue to operate unlined coal ash waste pits, despite the overwhelming evidence that all unlined storage pits have the potential to contaminate groundwater and nearby communities.
— Treating waste pits only lined with permeable clay the same as waste pits lined with protective, impermeable liners.
— Exempting so-called "legacy ponds" where there is no longer an active coal power plant at the site from the 2015 Coal Ash Rule.
The Court ordered EPA to strengthen the 2015 Coal Ash Rule to ensure communities are better protected from toxic coal ash. As of November 2018, EPA has yet to propose revisions to fix these deficiencies. This court decision in August was issued just a month after the Trump administration finalized additional rollbacks to the Coal Ash Rule. While this ruling does not address all of these most recent rollbacks, it provides further confirmation that EPA's ongoing rollback of coal ash protections is illegal and dangerous. In October Clean Water Action filed another lawsuit with Earthjustice and other environmental partners to challenge the Trump administration's illegal attempts to further dismantle safeguards that protect communities from toxic coal ash.
Clean Water Action Honors Barbara Helmick
and David Tykulsker
On October 24, 2018, more than 100 supporters and friends gathered in Washington, D.C. to celebrate Clean Water Action's Annual Event. Since 1972, we have won health and environmental protections by putting issue expertise, solution-oriented thinking and people power to work. We could not do this work without you. As we plan for 2019 and beyond, we face both historic threats to the protections we have come to take for granted and opportunities to make progress on longstanding and emerging challenges.
This year we honored the memories of our founder David Zwick and of long-time Board member Peter Lockwood. Inspired by their tireless dedication to our organization's vision and with your support, we will redouble our efforts for clean water, environmental protection, and healthier communities.
The David Zwick Award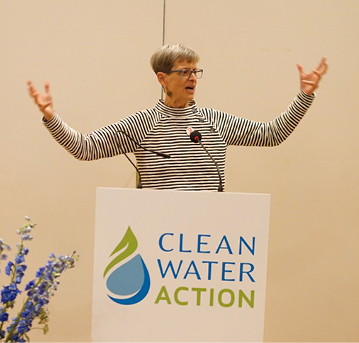 This year Clean Water Action announced an award in honor of David Zwick. This award will be presented yearly at our annual event in Washington, D.C. to honor those who carry on and exemplify David's commitment to clean water and a healthier environment and his passion for putting people power to work to achieve those goals.
It is fitting that the first recipient of the David Zwick Award was Barbara Helmick. Barbara was one of the pioneers of the canvassing model. She exposed David to the groundbreaking canvassing work she was doing in Illinois in the early 1970s and David embraced the canvass as a foundation of Clean Water Action's grassroots organizing strategies. Barbara went on to set up Clean Water Action offices in New Jersey, Pennsylvania and Minnesota. Hundreds of canvassers across the country have been inspired by Barbara's training and many made activism their career. She's always willing to come to Clean Water's canvass leadership conferences and our offices where all of our staff are moved by her devotion to social change and the importance of personal contact in motivating people to act.
The Peter Lockwood Award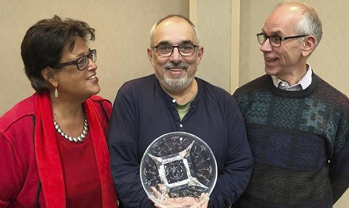 Clean Water Action is also pleased to announce and annual award in honoring of founding board member Peter Lockwood. This award will be presented to a volunteer or staff member to honor those who carry on Peter's commitment to Clean Water Action's mission and his passion for social change through action.
On December 2nd, 2018 the first Peter Lockwood award was presented to long-time board member, and former board chair, David Tykulsker. David will retire from the Board of Directors at the end of 2018, after having served for more than 25 years and 14 as Board Chair. David led the board through several transitions for the organization and has focused tirelessly on ensuring Clean Water Action is a powerful force for our water and communities.