Celebrating our Leaders in Massachusetts
June 5, 2019
On May 22, Clean Water Action gathered for our Annual Spring for Water Benefit in downtown Boston at Carrie Nation Restaurant and Cocktail Bar. We had the pleasure of honoring influential leaders who are making real change, and recognized Clean Water staff member Jeff Knudsen as he heads into retirement.
We highlighted our current campaign to protect children and firefighters from toxic flame retardants, and honored Senator Cynthia Stone Creem and Representative Marjorie Decker with the Legislative Champion Award. Working on behalf of children and firefighters, Senator Creem and Representative Decker are working to ban 11 toxic flame retardants from children's products, bedding, household furniture, carpeting and window coverings. As the effort continues in 2019, we are working hard to successfully pass this bill and protect the health of our communities.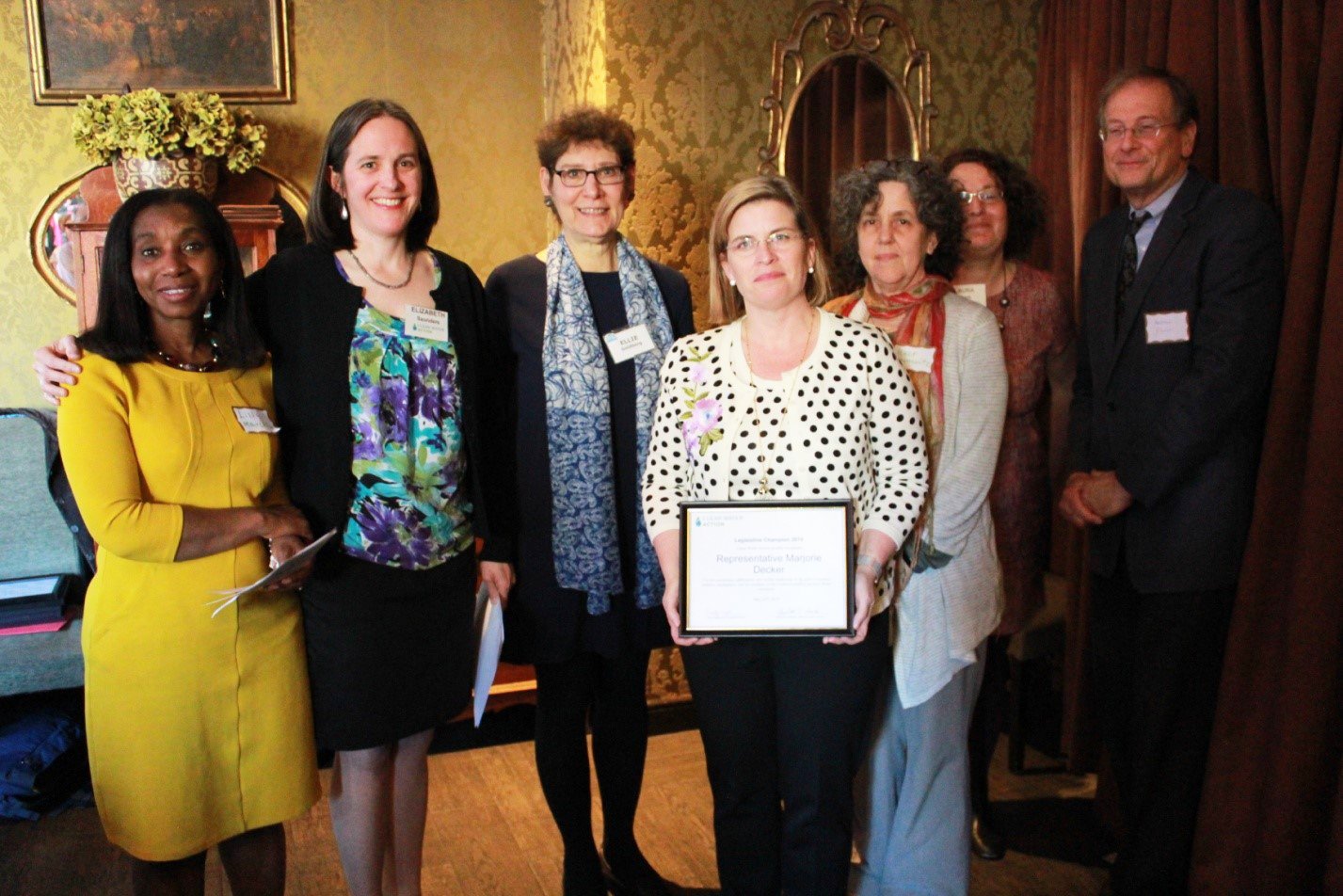 Photo: Representative Marjorie Decker is awarded the "Legislative Champion 2019" Award. (Left to Right) Lilly Marcelin (Resilient Sisterhood Project), Elizabeth Saunders (Clean Water Action), Ellie Goldberg (Clean Water Action Advisory Board Member), Representative Marjorie Decker, Janet Domenitz (MASSPIRG), Laura Spark (Clean Water Action), Andrew Rainer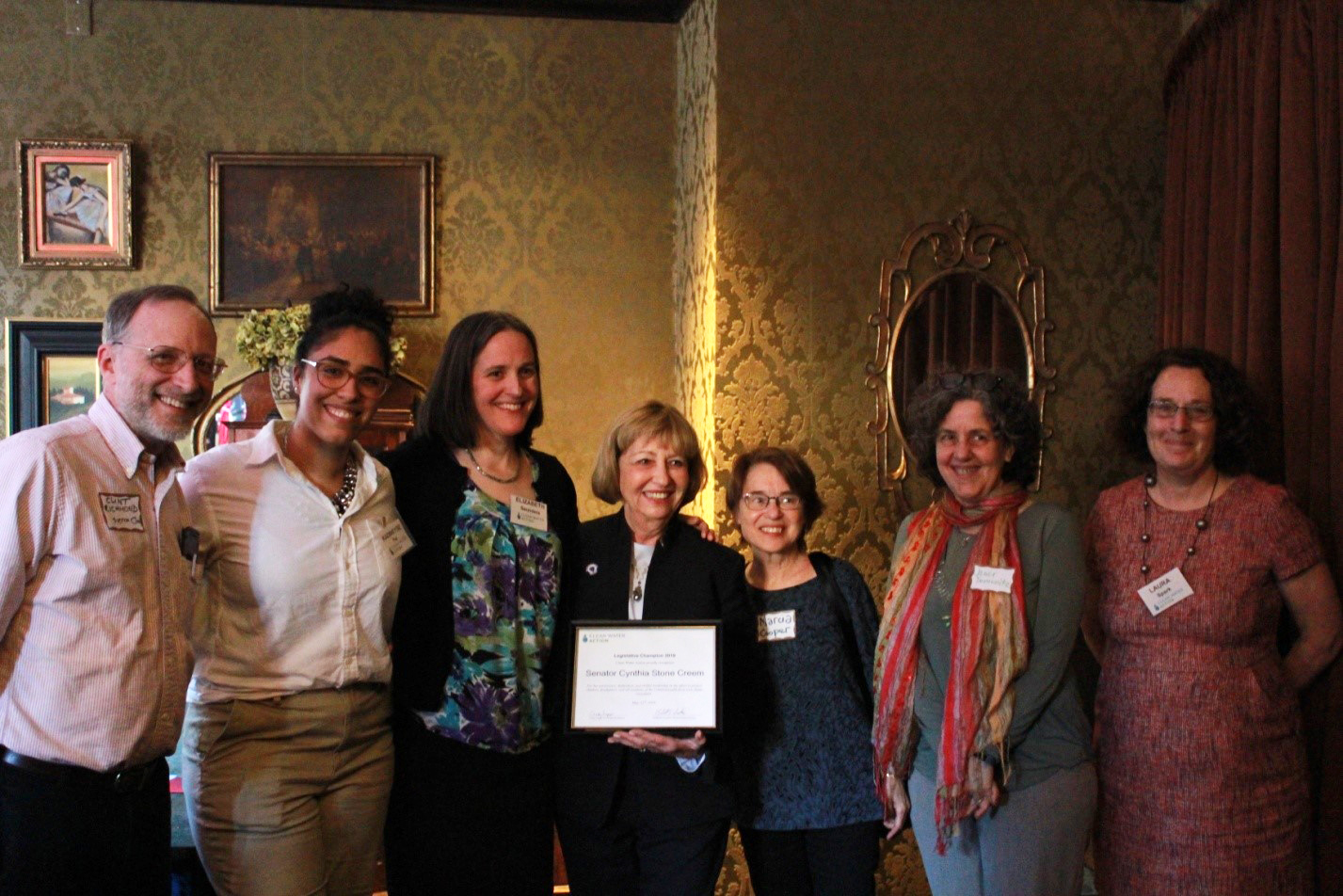 Photo: Senator Cynthia Stone Creem is awarded the "Legislative Champion" Award. (Left to right) Clint Richmond (Sierra Club), Kadineyse Paz (Clean Water Action), Elizabeth Saunders (Clean Water Action), Senator Cynthia Stone Creem, Marcia Cooper (Green Newton), Janet Domenitz (MASSPIRG), Laura Spark (Clean Water Action)
We presented Clean Water Change Maker awards to Mass Alliance and Cole Rosengren. Mass Alliance has built a broad coalition working towards the goal of a progressive Massachusetts. They are an important player in empowering progressive leaders throughout the state, providing trainings and resources to change politics in Massachusetts. Cole Rosengren, Senior Editor at Waste Dive, has published powerful stories that have advanced the Zero Waste Boston campaign. It was an honor to recognize both of these awardees, and their efforts to protect our environment and health.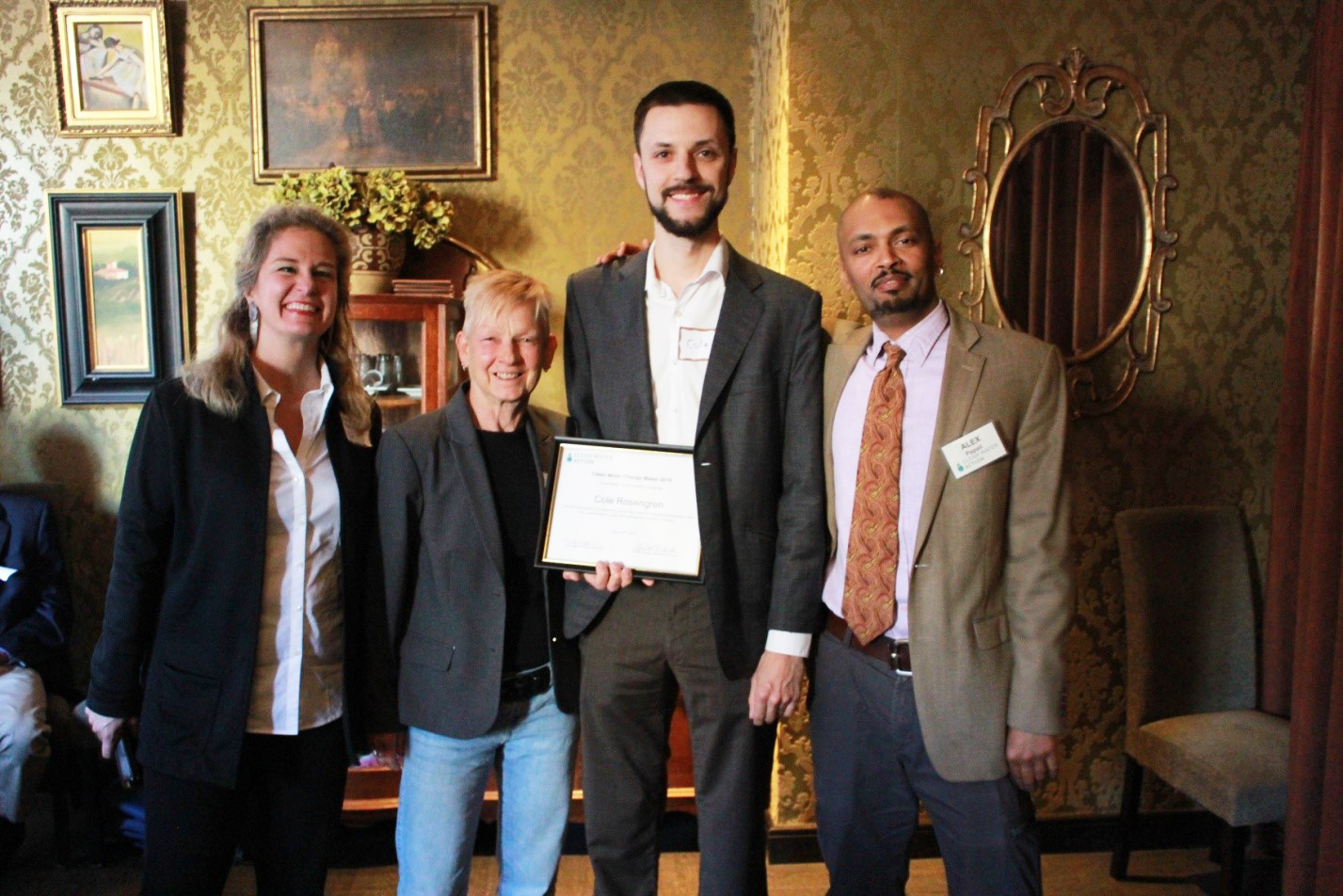 Photo: Cole Rosengren is awarded the "Clean Water Change Maker 2019" Award. Kirstie Pecci, Lor Holmes, Cole Rosengren (Waste Dive), Alex Papali (Clean Water Action)
Clean Water Action also recognized Jeff Knudsen, our Massachusetts Political Director and New England Director of Administration and Finance for over 19 years, who is moving towards retirement starting this May. His tireless work has contributed to our successes, and he will be missed!
Thank you to all who attended the event! We were happy to see everyone, and hope you will join us in the Fall for our next benefit – more information coming soon.